OMRI Listed Organic Product
Our OMRI and IFOAM Listed Organic Biological product line consists of two liquid products, The Bio-N-Liven Answer and The Carbon Answer. They combine to stimulate, feed, replicate, and sustain the microbial activity in your soil which speeds up the process of converting nutrients into plant available nutrients for crop uptake.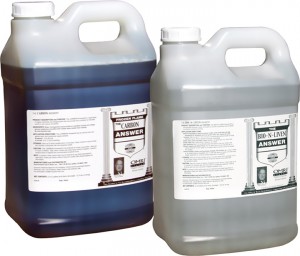 The Bio-N-Liven Answer
Bio-N-Liven Answer is a concentrated enzymatic system formulated to promote composting.
The Carbon Answer
The Carbon Answer is a high energy, all organic nutrient source that furnishes immediate energy to microbial life. The product contains 14 different carbon sources that contains 1.25 million gram calories of energy per pound of product. Thus it provides an immediate energy source as well as a sustainable energy source for the microorganisms in your soil. The balance is a proprietary blend of water soluble trace minerals derived from humic substances produced using only the non-chemical, slow water leaching of top quality organic, humic material. The product contains substantial amounts trace minerals.